4th August, 2021
Vasse Felix Tasting and new winery – Lethbridge Wines
News
Summer is here at last, and we have an offer to make the days sparkle. Additionally we have been building our range so that we now have over 410 wines/spirits in our portfolio. We try to keep the stock outages to a minimum but there will always bee a few items out of stock.
Vasse Felix Tasting
https://www.vassefelix.com.au/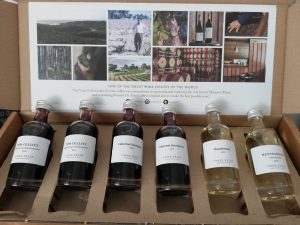 On Thursday 20th July I "attended" a Vasse Felix masterclass given by Vasse Felix Chief Winemaker Virginia Willcock and Owner Paul Holmes à Court which included the first official UK trade tasting of their Icon Cabernet, the 2017 Tom Cullity.
 We were sent an amazing set of 6 wines, in a very impressive box, and were led through the wines in a very different style to the normal tasting protocol.
The tasting started with the 2014 Tom Cullity. The Vasse Felix vineyards were established by Dr Thomas Brendan Cullity, and the wine pays tribute to his pioneering work at Vasse Felix and in Margaret River. Great wine with a very noticeable longevity. It will cellar until 2038. A Cabernet blend with 16% Malbec, giving it a beautiful well-rounded taste.
We moved then to the newly released 2017 Tom Cullity. A lovely translucent ruby colour. Less open than the 2014 which is to be expected, but again a delightful full-bodied red, with the same malbec (17%) influences. It will be a brilliant addition to our portfolio when it arrives in stock in August.
The next two wines were different vintages of the excellent Cabernet Sauvignon, 2008 and 2018. Not expecting a huge variation, I was really surprised by the depth and fullness of the 2008. It is drinking beautifully. The 2018 is superb, but you can tell straight away it will improve year on year.
We finished with two chardonnays. A 2019 Heytesbury, and a "normal" VF Chardonnay. The 2019 was bursting with flavour and very full of taste. The Heytesbury a clear step up, but also a ste up in price. Both wines were excellent, and worth a try.
The Tom Cullity will arrive with us in August, but the Cabernet sauvignon and chardonnay are flying off the shelves now.
If you want to view the tasting and presentation by the winemaker, you can see it on https://vimeo.com/577435409/6f6cb8db97
Our full range of Vasse Felix wines may be seen at
www.auswinesonline.co.uk/product-category/vasse-felix/
Lethbridge Wines
We have added a new winery to our portfolio, with a range of very different wines, and an interesting story attached to them. We have 5 wines from Lethbridge which is in Geelong, all of which are in short supply especially in Australia. We have very limited stocks.
We had a tasting a few years ago in our now defunct retail premises. Done by Ray Nadelson one of the owners of Lethbridge. He is a former neuroscientist, and was in the UK to promote the winery, and do some climbing in the Lake District. The other partners in the business come from similar academic backgrounds.
We had a great evening, the wines did well, and we are now bringing them in to our online portfolio.
You can find out more about the winery on You Tube
Our full range of wines may be seen at
www.auswinesonline.co.uk/product-category/lethbridge/
Sparkling Offer
It is summer, so what is better than a great offer on all our sparkling wines excluding Jansz. Until 31st August enjoy a 10% discount on all non-Jansz sparklers, including sparkling shiraz. We have good stocks of most lines, so take advantage now.
www.auswinesonline.co.uk/?s=sparkling excludes Jansz products
VF Tasting pack 1