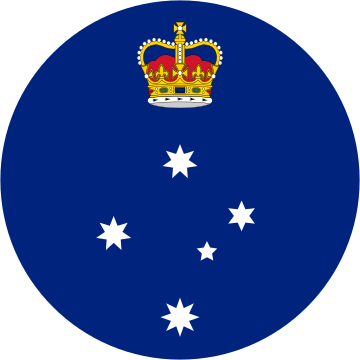 2nd August, 2023
Unveiling the Treasures of Victoria Wines: A Journey Through Australia's Premier Wine Region
Victoria Wines – An Introduction
Nestled in the southeastern corner of Australia, the state of Victoria is a veritable paradise for wine enthusiasts. Renowned for its diverse terroir, premium vineyards, and innovative winemaking practices, Victoria has emerged as a prominent wine region that stands proudly alongside its counterparts in South Australia and New South Wales. In this article, we embark on an exciting journey to explore the delights of Victoria wines, uncovering the region's history, grape varieties, notable sub-regions, and where to find the finest Victoria wines to indulge in a truly Australian wine experience.
You can see more information on the State of Victoria by going to Wikipedia by clicking here.
The Rich History of Victoria Wines
The history of winemaking in Victoria dates back to the early 19th century when European settlers recognized the region's potential for viticulture. The first vines were planted in the Yarra Valley by Swiss immigrants, followed by other pioneers who established vineyards across the state. As the years passed, the Victorian wine industry flourished, and its wines gained recognition on the global stage.
The Phylloxera epidemic of the late 19th century had a significant impact on the Victorian wine industry, leading to the uprooting of many vineyards. However, the state's resilient winemakers persevered and eventually replanted with disease-resistant rootstocks, contributing to the reinvigoration of Victoria's wine production.
Today, Victoria is home to a diverse and dynamic wine scene, with a focus on innovation, sustainability, and crafting wines that reflect the unique characteristics of the region's varied terroir.
Grape Varieties of Victoria
Victoria's diverse climate and terroir support the cultivation of a wide array of grape varieties. The region's winemakers take advantage of these diverse conditions to produce an impressive range of wines. Some of the most prominent grape varieties in Victoria include:
Shiraz: A quintessential Australian variety, Shiraz thrives in Victoria's warmer regions, particularly in Heathcote, Bendigo, and the Grampians. Victoria's Shiraz wines are known for their bold and full-bodied character, showcasing rich black fruit flavors, spice, and subtle herbal notes.
Chardonnay: Chardonnay excels in the cooler climates of Victoria, such as the Yarra Valley and Mornington Peninsula. These wines exhibit a fine balance of ripe stone fruit, citrus, and delicate oak nuances, resulting in elegant and well-structured Chardonnays.
Pinot Noir: The Yarra Valley and Mornington Peninsula are known for producing exceptional cool-climate Pinot Noir. These wines boast bright red fruit flavors, floral aromas, and a velvety texture that exemplify the elegance of this delicate grape variety.
Cabernet Sauvignon: Victoria's Cabernet Sauvignon is renowned for its structure, complexity, and longevity. Regions like the Pyrenees and Geelong produce outstanding expressions of this classic variety, displaying blackcurrant, cassis, and subtle herbal undertones.
Riesling: The cooler regions of Victoria, including the Macedon Ranges and Great Western, are ideal for growing Riesling. Victoria's Rieslings often exhibit vibrant acidity, aromatic floral notes, and zesty citrus flavors.
Notable Sub-Regions of Victoria
Victoria is a vast wine region with various sub-regions, each contributing its unique flair to the state's winemaking tapestry. Some of the most notable sub-regions include:
Yarra Valley: One of the most famous wine regions in Australia, the Yarra Valley is renowned for its cool-climate wines, including Chardonnay, Pinot Noir, and sparkling wines. Its picturesque landscape and proximity to Melbourne make it a popular destination for wine tourism.
Mornington Peninsula: Known for its maritime climate, the Mornington Peninsula specializes in cool-climate wines, especially Pinot Noir and Chardonnay. The region's proximity to the ocean influences its wines, resulting in elegant and refined expressions.
Heathcote: Located in central Victoria, Heathcote is known for its rich, red Cambrian soil, which is particularly well-suited for growing Shiraz. The region's Shiraz wines are bold, robust, and exhibit intense fruit flavors.
Rutherglen: Famous for its fortified wines, particularly Muscat and Tokay (Muscadelle), Rutherglen showcases the richness and depth of these dessert wines. The region's warm climate and unique winemaking traditions make it a treasure trove for sweet wine enthusiasts. 
Where to Find the Finest Victoria Wines
For wine enthusiasts seeking to discover the finest Victoria wines, Australian Wines Online (www.auswinesonline.co.uk) offers an exceptional selection of premium wines from this esteemed Australian wine region.
Australian Wines Online: Your Gateway to Victoria's Wine Treasures
As a dedicated online platform for showcasing the best of Australian wines, Australian Wines Online takes pride in curating a diverse collection of Victoria wines. Here's why Aus Wines Online stands out as the ideal destination for exploring Victoria's vinous delights:
Australian Wines Online features an extensive selection of Victoria wines, offering a broad range of grape varieties, styles, and price points. Whether you're seeking a sophisticated Pinot Noir or a bold Shiraz, their curated collection has something to suit every palate.
Expert Selection of Wines
The team behind Australian Wines Online consists of wine experts with a deep passion for Australian wines. Their expertise ensures that each wine in their collection is carefully selected for its exceptional quality and authentic representation of the Victoria region.
With a user-friendly website, Australian Wines Online makes it easy for customers to browse and explore their curated collection. Detailed descriptions, tasting notes, and food pairing suggestions provide valuable insights to assist customers in making informed choices.
Secure and Convenient Delivery
Australian Wines Online offers secure and efficient delivery services, ensuring that your chosen Victoria wines arrive safely at your doorstep. Whether you're ordering for yourself or sending a gift to a loved one, their delivery process guarantees a seamless experience. Click here to see our full range of wines from Victoria
Conclusion
Victoria wines are a testament to Australia's winemaking ingenuity, showcasing the country's remarkable diversity of terroir and grape varieties. From the bold Shiraz of Heathcote to the elegant Pinot Noir of the Yarra Valley, each region within Victoria offers its own unique expression of Australian wine.
To experience the treasures of Victoria wines, visit Australian Wines Online (www.auswinesonline.co.uk) and immerse yourself in the finest selection of wines from this esteemed Australian wine region. Whether you're a seasoned wine enthusiast or an adventurous explorer of new flavors, the captivating wines of Victoria await your discovery. Cheers to the remarkable journey through the world of Victoria wines!